x.news – the crossing point for news
Andreas Pongratz, Founder and CEO, x.news
Wed 15, 04 2020
We spoke with Andreas Pongratz, founder and CEO of x.news information technology, about the company's x.news™ AI based live story research tool, which the company says is transforming the way journalists work by monitoring a wide range of different sources (news agencies, social media sites, web and internal sources) all on one screen. It's all about giving journalists the tools to find, follow, collect and share all the latest information to deliver better and faster journalism.
Tell us a bit about x.news' background
x.news information technology was incorporated in late 2015, with a basic version of the product x.news™ developed by the founders ahead of that. Having a long track record in digital media production and management tools (the founders and their team members), we quickly discovered the need for a tool to break up legacy systems, create more transparency in digital audio & visual files and cope with the steadily growing number of sources at the same time. Certainly, HTML5 was the path to go, enabling it to be used on any internet connected device anywhere on the planet.
Tell us about x.news information technology today
Today x.news serves customers in the media, corporate and public sectors on three continents from our HQ just outside of Vienna in Pinkafeld, Austria. Our customers include Red Bull Media House (A), Mofa (Qatar), Sky (D), ORF, HRT, TVN, RTL, Bloomberg and many more.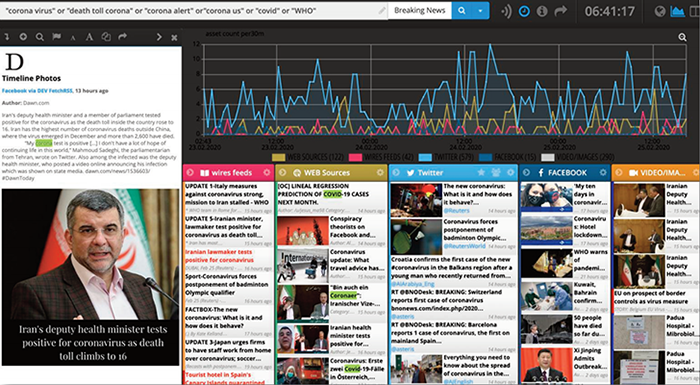 How has x.news (the product) developed over time –what does it offer today?
x.news™ is now in its 3rd generation, enhanced primarily by ideas and needs defined together with and by our customers. Today it offers a wide range of sources whether they come from contracted, internal, social, web or communication tools. That number is steadily growing of course as integration with other applications also continues to grow.
The UI can be fully adapted by customers to meet a user's requirements for efficient working. Sources can be grouped into profiles for teams, regions, etc. to avoid user-distracting 'noise'. Users can create their own stories (saved searches) and get alerts if there are any updates. Drafting a script or collecting material for online publishing or reports has never been easier. They can collaborate and share knowledge, stories and sources. Publishing into 3rd party systems can be executed with a simple button push.
Integration with other manufacturers' studio-based news systems must be important – which companies do you work with and what are the special demands in this area?
Based to our open standards and the optional Media Transfer Service (MTS), we currently support all major NRC Systems like iNews, ENPS, Octopus, Dalet, Ross, Grass Valley and Open Media. We also integrate with MAM systems like Media Central Cloud UX, axle.ai, Sony, DigaSystem, Masstech, Latakoo and VizOne. x.news™ even supports live graphics systems such as Maestro.
The level of integration mainly depends on the partner's capabilities of how to hand over metadata and the type of media. Another demand sometimes is bi-directional interfacing, allowing the partner's app to utilize our APIs for enhanced integration.
What business advantages do your products bring to your customers?
x.news™ customers have the freedom to choose on-premise or their cloud of choice to run our system as well as full control and all administration rights. They also have the unique ability to freely connect contracted sources with internal repositories, social media and web in one app. This can deliver 90% savings on research, alerting of individuals on new updates, collaboration across teams and locations, D&D or publish to external systems to ensure fast news delivery – and huge $$$$$ savings.
Give us a few examples of how your customers are using x.news
During the Austrian parliamentary election campaign 2019, the ORF was monitoring parties and candidates' activities on their communication and reactions of competitors and publishers. The international news desk was watching the news on Brexit and the impeachment process in the US.
KTBS3abc is monitoring all regional sources in Arkansas, Louisiana, Texas and Oklahoma for faster news and alerts while Mofa is monitoring international news sources reporting on Qatar.
You've begun integrating some AI into your products. Tell us what and why – what advantages does it bring?
conceptr™ is our new product utilizing AI to allow the verification and fact checking of news, and also to provide personal trending topics and the ability to learn from individual user's behavior to then show results prioritized by personal relevance.
What's your 'special sauce' – why do your customers choose x.news over your competitors?
I think it is the combination of breaking up legacy, our open data structure, easy and flexible integration, our API, XML and NewsML G2 while maintaining full control of the application which we have not seen with other vendors.
What's next for x.news?
Continuing the development of conceptr™, LGrid and sources catalogue subscription. LGrid – which stands for Language Grid – is an option which enables integration with any of the many great language solutions available, allowing the customer to choose their preferred one while ensuring that conceptr™ will connect and integrate with it. SCS (sources catalogue subscription) will be an option that, based on the user's research (search/stories), could propose other (currently not in the system) relevant sources to enhance story creation quality.
Finally, what are the most valuable IABM member services to x.news?
Communication, networking, global events and lounges.
Related Content
Based on your recent activity and preferences we recommend the following pieces of content