The essence of virtual production is to present a perfect illusion of reality. Aximmetry virtual production platform has to create a close to perfect virtual environment in real-time to be able to immerse viewers in the virtual world. To preserve this illusion of reality for the audience the 3D background has to move in sync with the real camera. This is the reason why most advanced production facilities use camera tracking today and this is why the Aximmetry software is compatible with all camera tracking solutions.
To further perfect the illusion of reality, Aximmetry's software-based chroma keyer achieves seamless integration of real and virtual environments with the interaction of virtual lights and real-world objects. Aximmetry can cast virtual shadows on the talent and combine these seamlessly with the life-like shadows generated by the talent itself.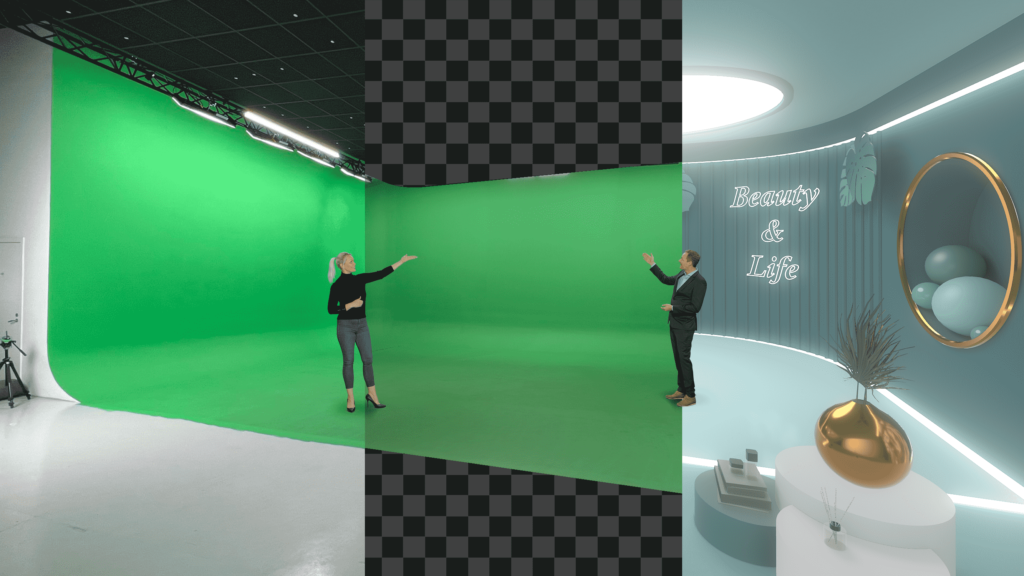 Clean plate is an image that only contains the green screen, but not the subject(s) of the production. Traditional clean plate technology only works with fixed cameras. Even lighting of large-scale green screens often poses a challenge and results in sacrificing keying quality when the camera moves. Until now, clean plate could only be used with a fixed camera or productions simply had to compromise on keying quality.
There are no obstacles to creating a complete illusion for the audience anymore. Aximmetry's new 3D clean plate feature is developed for achieving perfect keying results even with a moving camera. It works in 2 phases:
Preparation phase: Users create the model of their green screen and set in Aximmetry.
Production phase: After setting the lights users sweep over the green screen with the camera. As a result of this process Aximmetry generates a virtual map, by simply and quickly recording multiple images of the green screen session by session.
Using this model and the virtual map during production Aximmetry creates a perfect clean plate for every angle.
Aximmetry is committed to keeping its software and services accessible for all creators and remains at the forefront of virtual production development. Aximmetry Chroma Keyer is available in all software editions (prices starting from EUR 3 / month). The new 3D cleanplate feature is to be included in all Aximmetry Broadcast editions after our next release (prices starting from EUR 490 / month or EUR 49 / day). The next release is to be expected in Q2 2023.
About Aximmetry:
Aximmetry DE software editions with complete Unreal Engine integration are tried and tested by tens of thousands of users around the world from indie content creators, to large production houses using multiple licenses for complex productions.
Aximmetry is the studio glue that holds these productions together by easily interfacing a multitude of hardware used in the broadcast environment. There are various input and output possibilities: LED screens, tracking systems, numerous controlling devices and API to name a few. Its superior quality live compositing, flexible scripting tools and user-friendly features for realtime pre- and post-processing of the rendered image make Aximmetry a great facilitator of all virtual productions.
Search For More Content