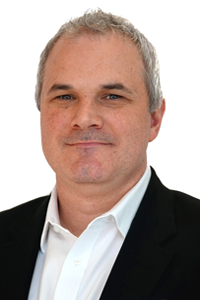 Tim Shoulders
President of Grass Valley (a Belden Brand)
Following on from the point made in the interview with Peter White on how a large scale established business can be effective in this time of great change, we asked Tim Shoulders, President of Grass Valley (a Belden Brand), how they have transformed their business to succeed and leverage that scale to their advantage.
The last several years in our business have indeed been filled with challenges as our customers have been faced with new competition from streaming services and consumers have migrated to these new ways to consume and interact with content. Grass Valley has been able to successfully navigate through these choppy waters for a number of reasons.
First, it's no secret that our company is large – we are one of the largest suppliers of solutions to the media technology market. This scale has enabled us to spend more than nearly every other vendor in the market on innovating to meet our broadcast customers' changing needs. It also allows us to deploy resources swiftly to new opportunities as customer requirements change. Many start-ups or less robust competitors aren't able to be so nimble as they beholden to the one or two revenue opportunities that keep them afloat. We are able to be nimble due to a management commitment at GV to distribute tactical decision making down into the organization. I'm comfortable doing this because we at Grass Valley have a clear understanding of who we are and where we're going and we can communicate that down through the organization via our goals and objectives setting process and our internal communications. When the entire organization is on the same page regarding what matters, it's easier to delegate authority.
Second is the enormous amount of domain knowledge and experience we have at our disposal on the Grass Valley team. We have experts that understand many different elements of the broadcast workflow, which allows us to build efficiencies between workflow components. We're proud to have a group of professionals on the GV team consisting of SMPTE fellows and even some who have founded and grown successful businesses on their own. We provide leadership in standard setting and in return receive technical credibility. This diversity of thought and expertise helps us innovate in ways other competition with product offerings limited to point products cannot innovate.
Finally, our relationships with our customers are invaluable to ensuring we're heading in the right direction. Grass Valley serves, in some capacity, nearly all the major media companies globally. There are very few significant media projects where we aren't asked to bid. This broad perspective allows us to identify changes in the market that other vendors may miss. We collaborate with our customers and the depth and strength of our many relationships with broadcast leaders worldwide allow us to stay focused on innovation that makes a difference to these customers. Without our customers suggesting and, ultimately, validating our product development decisions, we'd simply be throwing darts. We know these relationships are critical and we put a lot of effort into ensuring our customers understand their importance in the present and future of Grass Valley.
Search For More Content