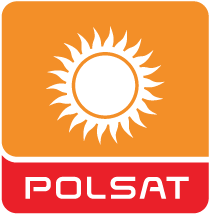 ABOUT OUR PARTNERSHIP
Our partnership with Polsat goes from strength to strength. Part of the Cyfrowy Polsat Group – the largest media and telecommunications group in Poland – the innovative broadcaster continually extends how it uses our Tellyo platform, helping to drive its highly-effective video strategy across digital and social channels.
EXPLORE HOW WE'RE WORKING ACROSS POLSAT'S TEAMS AND CHANNELS
MULTI CHANNEL INTEGRATION
Polsat regularly live stream news content via our Tellyo platform. But, as one of our beta partners, the broadcaster recently trialled our cloud-based Stream Studio to create and broadcast a TV-quality live streamed show to its social channels. It was a hugely successful trial and something the company wants to build upon over the coming year.
MULTI CHANNEL INTEGRATION
A dedicated solution enables Polsat teams to edit and integrate long-form content within its OTT platform, IPLA. The solution enables live editing without any transcoding, delivering entire shows re-packaged for IPLA shortly after a programme has ended.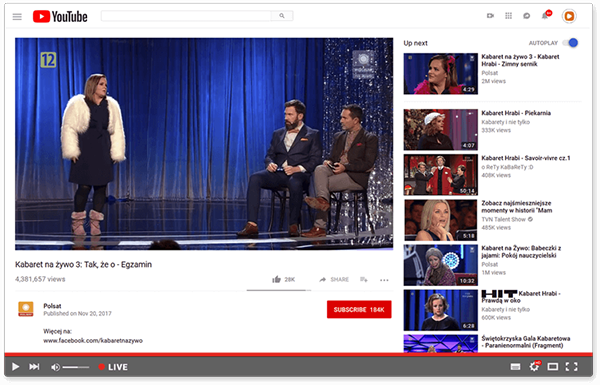 REAL-TIME CLIPPING
Feeds from multiple Polsat channels are recorded in Tellyo, giving internal departments managed access to content that they can use to clip videos for the broadcaster's social channels. For the broadcaster's main entertainment channel, Polsat, this enables its teams to leverage Tellyo's video editing features to create short clips and individual social stories, generating massive levels of fan engagement. A behind-the-scenes clip of the Polsat Group's cinema production – Narzeczony na niby – has been its most popular.
YEAR-ON-YEAR IMPROVEMENTS
Year-on-year, the broadcaster has dramatically increased its social reach, views and engagements through the use of our Tellyo platform, with its audiences now much more driven to consume and engage with video content.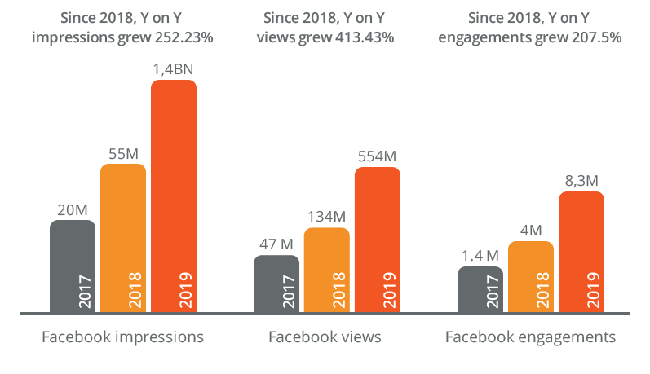 Data coming from clips created and uploaded to Facebook.
Search For More Content