ABOUT OUR PARTNERSHIP
As a long-standing partner, we're extremely proud that our work with Sunset+Vine has continued to evolve, with them frequently joining a working party on new upgrade features, which demonstrates a clear partnership between two ambitious companies. We work across the company's many sports productions, including Crufts, Super League Triathlon, the World Boxing Super Series, Hong Kong World Sixes, and the ECB.

SOME OF THE WAYS TELLYO IS DEPLOYED ACROSS SUNSET+VINE'S SPORTS ASSETS
DRIVING ECB FAN ENGAGEMENT THROUGH CRICKET CLIPS
Sunset+Vine package engaging highlights of ECB Test matches, T20 games and internationals. To produce these highlights, live streams are ingested into our Tellyo Pro platform where Sunset+Vine's digital production team utilise our powerful Editor to provide instant clips to cricket fans across the globe.
PARTNERSHIP POWERS ECB SUCCESS
Over the last year, we've continued to work in close partnership with Sunset+Vine to develop our platform and assist in delivering each of their client's vision. Sunset-Vine's digital team were the first to use our data-driven smart editor to automate video clip production, so speeding up workflows and ensuring ECB clips continue to reach cricket fans first as events unfold.
During a year in which England won the Cricket World Cup, social media reach and engagement through video clips has been at an all-time high for the ECB.
2019 TEST MATCH CLIPS HAVE SO FAR DELIVERED OVER 400MILLION IMPRESSIONS AND 100MILLION VIEWS.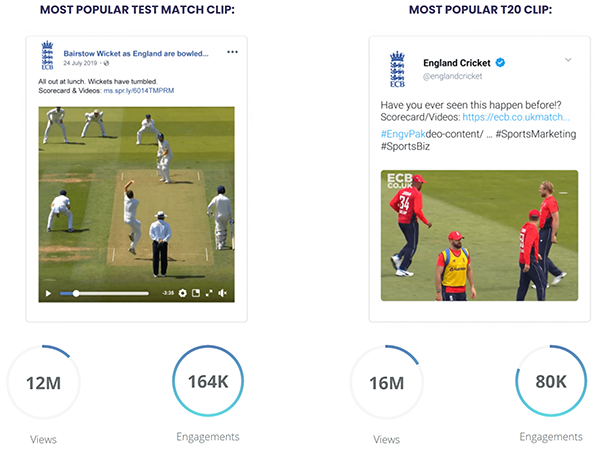 Search For More Content