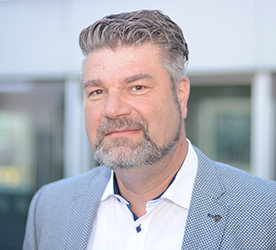 When the pandemic escalated, sending the world into lockdown, new remote working measures were implemented, and CGI was internally well equipped to handle the changes. Our employees regularly work from home, and thus have the full set up to continue collaborating whilst supporting our customers. As our solutions are web based, our customers still had all of the tools to be able to focus purely on the story at hand, which was more important than ever before during a global event like COVID-19 has and continues to be.
There continues to be a significant demand for implementing CGI's media solutions across both news and radio production, and even more so during the global pandemic. Our workflows support remote working, and enable journalists to research, structure and plan their deliveries in advance, optimising broadcaster's efforts globally, despite any obstacles due to lockdown.
One of the top German Radio and Television Broadcasters, and a member of the ARD group, utilised CGI's Viura visual radio solution from the dira product suite, to broadcast a political radio show visually through the pandemic. They urgently needed to communicate top level information from politicians and virologists to inform citizens of the rapidly changing situation in Germany. The company navigated producing the broadcast and visual shows while adhering to social distance rules in a narrow radio studio. After launching they received high viewing figures and have continued broadcasting this way throughout the pandemic to ensure its listeners, and the people of Germany, had the most up to date information directly from the top government officials.
We are in multiple discussions with worldwide broadcasters on how to future proof their newsrooms and broadcast playout, to be able to adapt quickly, and access all assets and services remotely. Our services currently offer flexibility for remote workers, and tools to promote collaboration within teams, and across broadcast teams like radio and news, but, our goal in the 'new normal' when the industry fully re-opens up again, is to effectively help broadcasters deliver professional news content with ease.
We recognize the importance of staying connected, especially when many organizations have no choice but to adapt to an even more remote methodology, all whilst remaining cost efficient and within budget. This story-centric approach sits at the center of any modern newsroom, with online, radio, television, social and more being able to utilize those assets to produce material ready for cross-media delivery regardless of location or distance. Automatic publication reduces the effort, meaning stories can be taken online swiftly and securely. In a post COVID-19 world, newsrooms will need to be built around producing stories that can be packaged for any platform and as a system manufacturer, we are developing newsroom automation and delivery tools to streamline this process to allow news broadcasters to focus on telling those stories, regardless of restrictions that may ensue.
Indeed, the news workflow is ever-changing, and thus we need to keep adapting due to the trends we're seeing with customers and changes happening now. The newsroom will always be centered around producing stories; the platform they are being produced for will become less and less important to the workings of the newsroom and automated tools will widely assist the production process. There are also plenty of disruptive methodologies making waves in remote working to consider – the cloud being the most prominent, with its ability to allow workforces to continue remotely with more power and more efficiency than ever before.
We are seeing smaller production sites becoming much more central to many organisations as a result, and at some point, in the future the physical nature of the newsroom or studio as we know it of a contiguous space dedicated to a sole task might end up disappearing too. These are all things we are following and considering in our current research and development of new products and media solutions at CGI.
Search For More Content