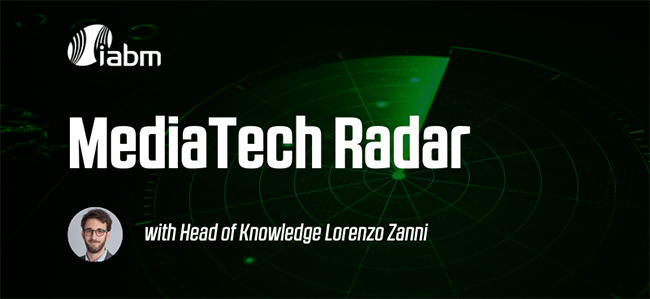 MediaTech Radar is a bi-weekly newsletter put together by IABM's Head of Knowledge Lorenzo Zanni. It focuses on a spotlight topic in MediaTech and reflects on a series of past, present, and future business developments in the industry. In this edition, our spotlight topic is ISE 2022.
A spotlight topic in MediaTech.
I attended Integrated Systems Europe (ISE) 2022 on 11 May. The show was buzzing and looked very busy in most halls of the Fira Gran Via in Barcelona. Registered attendees were about 50K, with a total of 800+ companies exhibiting at the show – figures on actual visitors published post-show indicated a 43.7K attendance. Attendance was down from about 81K in 2019 and 2018, and 73.5K in 2017, when the exhibition was however held in Amsterdam. NAB Show, which took place just a few weeks before ISE 2022, also attracted a similar (registered) attendance (52.5K), down from 91.5K in 2019, 93K in 2018 and 103K in 2017 – NAB Show was also buzzing I thought.
Although both shows attracted roughly 50K (registered) attendees in their first post-pandemic editions, it is useful to look at these numbers from a historical and trends-based perspective as well. Eight years ago, in 2014, ISE was roughly half the size of NAB Show (50K vs. 98K). Since then, ISE attendance has grown significantly more than NAB Show (and IBC). As reported in the figures above, NAB Show attendance has declined from 2017 onwards. Moreover, the impact of the pandemic has strengthened some of the positive drivers of ISE attendance, which include MediaTech convergence and the increasing use of sophisticated audio-visual communications in corporate, regardless of the natural decline in the 2022 attendance. Conversely, while the pandemic drove a streaming and content boom in the media industry, it also led to a de-prioritization of broadcast-specific technology (this is finding its way into parallel markets – more on this below). While these shows remain different, it is useful to reflect on the potential of ISE based on recent industry trends.
I entered ISE through at digital badge (i.e., a QR code on the ISE app), just like I did at Mobile World Congress (MWC), though the app wasn't as nearly good as the one I used at MWC. Digital badges are not particularly liked by exhibitors as they lead to a reduction in scans at the booth – hence providing less data/ROI from the show.
The venue was very big – it is 198,500 m2 vis-à-vis the 112,200 m2 of the RAI in Amsterdam – even though not all the available floor space was occupied by exhibitors. The size of the venue made the navigation experience more "relaxed" than usual, even though the event still looked busy.
The exhibition space at the Fira Gran Via was organized in six Technology Zones (see picture below). Technology used in specific sectors such as education or residential was therefore grouped in the same hall. Although this will never be a perfect exercise, it definitively helps navigate the show floor. The video linked above cites navigation complaints, though I really liked the layout – and I was a first-time visitor of the show. This organization of the exhibition space enables buyers to more clearly identify technology that pertains to specific use cases – and analysts to map trends to different sectors or technology sets. For example, hall 2 ("Unified Communications & Education Technology") was all about hybrid working and learning as well as merging physical and digital worlds in corporate. The booths of large technology suppliers dedicated to serving the office such as Microsoft and Logitech were focused on streamlining hybrid meetings, something that evidently hasn't been well figured out yet.
Hall 5 was labelled as the multi-technology hall along with 3. However, it really looked like the broadcast technology hall, hosting a significant group of MediaTech suppliers that are increasingly selling their products and solutions to parallel markets such as corporate. The main trend there was arguably IP technology and broadcast-grade production being marketed to these parallel markets, something I had already seen at some stands at NAB Show. As previously reported by IABM research, these suppliers are increasingly pivoting to parallel markets as spending on broadcast-specific equipment dwindles. Although this hall was less busy than the first 3 halls located near the entrance of the show (because of their location and the fact that most brands there are more known to attendees), it got very busy in the afternoon.
MediaTech Watchlist: Virtual Production, Netflix, Backlight and more…
A watchlist of selected past, present and future business developments in MediaTech.
Downloads of Unreal Engine grew by 40% between January and December 2021 according to Epic Games. Unreal Engine is a game engine that has increasingly found its way into other industries such as broadcast and media. The growth of Unreal Engine is consistent with rising convergence in MediaTech as well as an increasing importance of immersive technologies due to the impact of the pandemic, as reported by IABM. Epic also reported that there were 250 in-camera visual effects (ICVFX) stages in January 2022, up from fewer than dozen in 2020. According to NEP, ICVFX "allows filmmakers to capture and see virtual assets as if they were actually there; making the process as effective as if they were real-world physical assets." This brings increasing efficiencies to the production process. The growth of ICVFX reflects increasing investment in virtual production technology.
The growth of virtual production is having an impact on a wide range of technology products and services. For example, Oxford Metrics, a provider of smart sensing software for motion measurement and infrastructure asset management, reported in May 2021 that: "in the entertainment market, we experienced increased demand for our tracking systems to enable in-camera visual effects (ICVFX) in virtual production environments." This has been having an impact on M&A as well. In March 2021, The Carlyle Group acquired a majority stake in disguise, with Michael Wand, Managing Director and Co-Head of the CETP advisory team at The Carlyle Group saying: "the virtual production market is forecast to grow substantially, and we believe the company is uniquely placed to benefit from the accelerated demand for LED-based visual experiences and capture further market share."
What about virtual production skills? This IBC 365 article from November 2021 cites a StoryFutures Academy's report arguing that, in the UK, demand for these skills outstrips supply. Some initiatives to address this have sprung up, at least in the UK. I suspect that skills gaps in this sector are an issue not only in the UK but also in other production markets.
Virtual production was a major topic at NAB Show 2022 as well, as reported by this article from TVNewsCheck. And, by the way, I saw a virtual production wall at ISE 2022 as well, check this out.
In a previous newsletter, we reported that Netflix had acquired Next Games for $72m at the start of March to develop its gaming offering. Well, the streamer is doubling down on that, as at the end of March it announced another gaming-related acquisition, taking over mobile game developer Boss Fight Entertainment. The press release said: "We're still in the early days of building great game experiences as part of your Netflix membership. Through partnerships with developers around the world, hiring top talent, and acquisitions like this, we hope to build a world-class games studio capable of bringing a wide variety of delightful and deeply engaging original games – with no ads and no in-app purchases – to our hundreds of millions of members around the world." Hinting at the fact that Netflix's gaming strategy is not aimed at building additional revenue sources (for now), but it is rather complementary to its streaming business, via its (potential) positive impact on customer retention.
Akamai acquired Linode for about $900m in February 2022. The press release outlining the transaction reads: "modern digital experiences, including virtual environments like the metaverse, are created through the convergence of media, entertainment, technology, ecommerce, financial services, and online games," highlighting the impact of media convergence on infrastructure players such as CDNs. And: "Together with Linode, which has made it simple, affordable and accessible for developers to consume cloud computing, Akamai will become the world's most distributed compute platform, from cloud to edge." Akamai intends to build a bridge from the cloud to the edge. Last year, we highlighted that this could be an area of further development for infrastructure businesses. Akamai's move was followed by Limelight acquiring Edgecast in March 2022 for approximately $300m.
Thank you for reading this newsletter. If there are topics you would like our Business Intelligence team to cover, or have information/ideas you'd like to share, please get in touch with us.
Lorenzo Zanni
Head of Knowledge
IABM
Search For More Content