Oxagile – Agile engineering in OTT: How media and entertainment quickly adapts to changes
Sergey Marchuk, Co-Founder and CTO, Oxagile
Have you thought about how tremendously the media and entertainment industry has changed in the past 20 years? Over-the-top (OTT) platforms and services first appeared in the early 2000s and challenged existing market players to move their business emphasis to online streaming. Netflix was the first game-changer that took the decision to transform traditional cable and satellite TV broadcasting models by offering consumers films and TV series on demand. This shift forced the global expansion of OTT services and the adaptation of traditional TV networks by launching their own OTT platforms. But that's just a start for ongoing shifts in the industry.
Prediction: Global expansion of OTT will grow
With evolving consumer desires and technological advancements, everything in OTT moves fast and requires lightning reactions to keep up. Market research analysts report an annual growth rate of 7.73%, resulting in the expected market volume of $397.20bn by 2027. When it comes to monetization models, content distributors show flexibility by providing various forms of content availability, including the established SVOD (Subscription Video on Demand), AVOD (Ad-Supported Video on Demand) models, and FAST (Free Ad-Supported Streaming TV) with its increasingly growing popularity. According to trend forecasts, global subscriptions will increase by 400 million by 2028, with the AVOD category being now the fastest growing in streaming, followed by FAST.
While the global OTT market is rising, a tough rivalry between video content distributors is emerging. Market players are also challenged by varying viewing preferences and industry standards. Let's take for instance sports streaming services. Fans now often prefer watching matches on the go, which encourages content distributors to go mobile with OTT services to keep the audience loyal. One of the trickiest technical things within sports streaming is ensuring high-quality broadcasts with low latency. This type of OTT service is rather specific – viewing activity rises at certain times, e.g., during live matches. To be able to support the short-term increasing loads, sports streaming providers must ensure optimal infrastructure capacity; otherwise, they may face viewer churn next match. So, what approach would be the golden recipe of quick responses to market demands?
Now is the time for agility to fit into OTT engineering
Today, delivering viewing experiences that click with users at the market speed requires validating innovative hypotheses with end users and then adjusting the technologies when a change is needed. For example, AI and Big Data enable OTT companies to renovate content curation, personalize content discoverability, establish consumer-driven advertising practices, while Cloud and DevOps help them modernize content distribution infrastructures and solution architectures. Those broadcasters and software vendors who leverage technological advancements and respond to market demands quickly will dominate. For example:
Consumers who can seamlessly navigate through an OTT app and obtain a personalized viewing experience will remain loyal to the content aggregator.
Video streaming providers who can use end-to-end OTT platforms that fully satisfy viewers won't move to vendor competitors.
In these conditions, a traditional development stream won't bring your business opportunity from the ''Emerge'' to ''Leverage'' stage very quickly. What you really need is a rapid stream to sense it and respond within the shortest possible time, before the opportunity closes. And this is about Business Agility Value Stream (BAVS), which is estimated as three times faster to build a minimal viable product and validate a hypothesis with real consumers.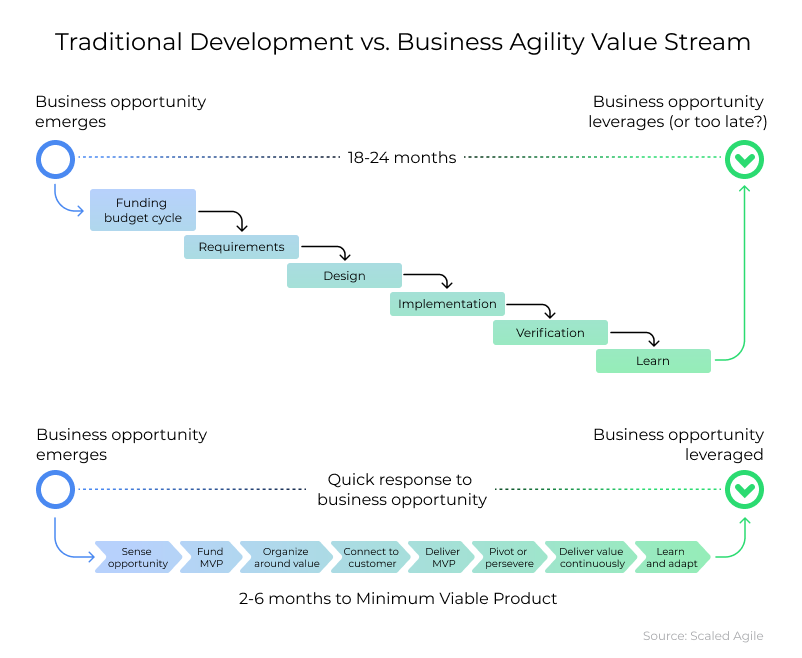 Components that make the delivery of OTT engineering agile
So, whether you work with a technology partner or build agile engineering in-house, how do you achieve agility in this area? The key best practices include the components below:
Consumer-driven product design. Bringing viewers into the loop to deliver personalized OTT services is the right way to reach the audience loyalty. Getting to the true needs and wants of end users through design thinking, user story maps, product market fit research, and other design practices provides flexibility when it comes to meeting consumer expectations.
Technology and domain expertise. Technical agility means the ability and willingness to adapt to tech changes and speed up technology releases. With competency centers researching and accumulating the industry's best practices, content distributors and software vendors can smoothly adapt current OTT technologies to innovative advancements. Behind the technical flexibility, you have to assemble a flexible IT infrastructure and IT tools that will be one step ahead of market changes.
Flexible roles and skills. The biggest stress of project staffing is based on the variability of project needs. Even within one single online video software vendor's or content distributor's team, they can vary widely. While some may require outsourcing of specialized video expertise, the others may need to delegate the full-cycle OTT engineering to technological partners. Discovering flexible staffing models while working with technological partners is what adds agility to OTT engineering delivery.
Customer-centered engagement models. A result-oriented approach to cooperation with partners is focused on the idea of full immersion into a client's business, combining a variety of collaboration scenarios and activities for client success management. Among them are outcome-based contracts, account management institutes, investment and co-partnership models, and more.
To give you a more detailed context of what makes engineering speedier, yet high-quality, there's a figure below demonstrating a 360-view of agile development practices applicable for OTT companies and their technology partners.
Fundamentally, business agility means applying flexibility to everything, including transformation, processes, change management, managing constant releases, reducing time-to-market, and contracting. And speed and adaptability are key. This is why media and entertainment companies need the right technological partner to go through changes and wisely invest in next-gen technologies to quickly adapt their businesses to market and consumer changes.
Search For More Content