PRODUCE CATEGORY BaM™Award Nominee – Tedial's New SMARTLIVE
Tedial's New SMARTLIVE marries AI to MAMs for elevated storytelling and increased fan engagement in sports production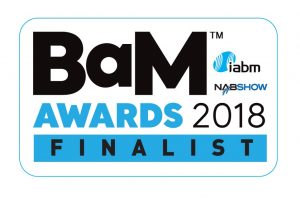 With over 18 years' experience, Tedial has earned an impeccable reputation as a MAM visionary and innovator. Tedial provides international broadcasters and global media companies with an intelligently engineered platform that enables users to take full advantage of file-based workflows, cloud computing and other technologies such as IMF and AI with maximum benefits and minimum risk.
The Company's proven track record is supported by over 80 high-profile reference sites around the world, including some of the most complex and largest MAM systems in the broadcast and media industry. Solutions are third party and hardware independent, releasing customers from proprietary constraints and enabling them to maximize operational efficiency and increase return on investment.
Tedial continued its pioneering leadership role at NAB 2018 by introducing SMARTLIVE, the world's most comprehensive live event support tool and a major breakthrough in sports production. SMARTLIVE dramatically transforms the way Sports and Live Events are staged, cataloged and content delivered across numerous platforms, including Social Media. Tightly integrated with AI tools, SMARTLIVE can automatically generate an increased number of highlight clips during or after an event and deliver this advanced story-telling to a very targeted audience increasing the potential for significant growth in fan engagement while reducing production costs.
What makes SMARTLIVE unique in the industry?
Before any action happens, SMARTLIVE ingests event data feeds and automatically prepares the broadcast event inside its metadata engine. Simultaneously SMARTLIVE automatically creates the corresponding log sheets, the player grids and a schedule of the event for human assisted logging. All these preparations are linked and organized by collections, so an entire season of sports events can be prepared in advance.
During an event, AI generated metadata, like 'speech to text', is ingested and applied to the program feed, and the system is configured to automatically create clips based on actions, keywords or manually logged occurrences. SMARTLIVE automatically pushes content to AI engines; video and audio recognition can be leveraged to generate additional locator data and annotate the media proxies. And the system can automatically publish clips and/or push content to social media platforms.
SMARTLIVE is agnostic to any sports or data providers. Its powerful metadata engine can be easily configured to create an automatic metadata ingest process addressing demanding and complex sport workflows. SMARTLIVE dramatically increases the utility of the MAM GUI interface, bringing MAM much closer to LIVE production than ever before.
SMARTLIVE is 100% compatible with PAM providers such as SAM or EVS, making it the perfect tool to orchestrate all business processes on top of an existing PAM. Thanks to Tedial's award-winning AST storage management system, SMARTLIVE can manage the media life-cycle and all media movements between different locations, or simply manage historical sport archives. Multilevel search functionality allows the program producer to include timely historical archive footage for inclusion in the broadcasts or highlight clips.
SMARTLIVE also provide substantial financial benefits by reducing preparation time and creating more highlights with minimal staff. More content published means more fan engagement and more revenues.
Search For More Content