Earlier this year, as demand for remote post-production grew, we focused on supporting a series of product updates to bring maximum performance to the platform. Extending to these, we're excited to share our latest product update built for your specific needs.
Enhanced Security through Two-factor Authentication (2FA)
Security has always been a top priority. Working for top producers and brands requires us to go beyond and above state of the art when it comes to supporting security standards. As the demand for remote collaboration increased, we introduced multi-factor authentication. When you opt-in, your team members' identities will be double-checked to avoid password guessing.
While not mandatory, you can make 2FA requiremed for all users working on productions in your account. Users who already have 2FA enabled will not notice any changes; users who don't will be prompted to set up 2FA. To learn more about enabling 2FA in your account, check out our support page on how to enable or disable 2FA.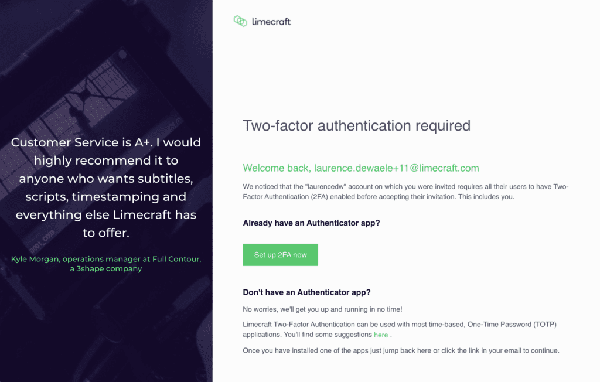 Our product team remains committed to allowing you to set up the most secure environment for hosting your content. We welcome any suggestions in this regard.
A better Search Experience
The new search engine gives you maximum control without the complexity you would expect from it. Moreover, it allows you to efficiently retrieve the right fragments of very large collections as well, saving hundreds of hours of manual work.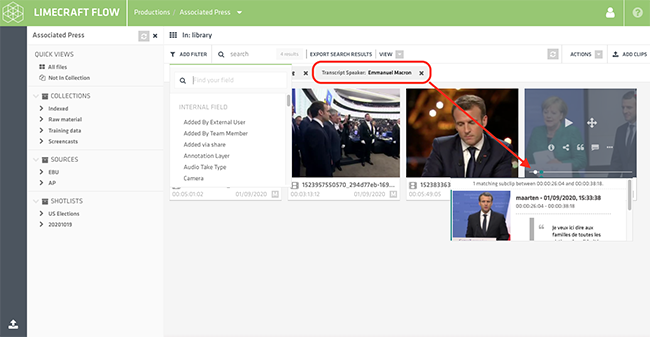 We understand that searching for media can be time-consuming, so we made it easier and faster to browse for collections, story parts, and scenes. Using the new search engine, not only you'll save a lot of time when dealing with a robust production library, it also makes the process more intuitive.As was the case before, you can save your search results as a quick view, creating a shortcut for future use.
You can learn more about how to use the search engine on our knowledge base. As always, we warmly welcome your suggestions and comments.
Using AI for Automatic Shot Description (beta)
As part of the MeMAD project, we conducted extensive testing of various AI applications in media production, including subtitling, archive indexing and automatic shot description. We concluded that AI is still in its infancy when delivering a service that works reliably.
One of the key findings was that AI services produce massive amounts of mostly unusable data. To make these data into usable information they have to be reconciled into a single coherent description.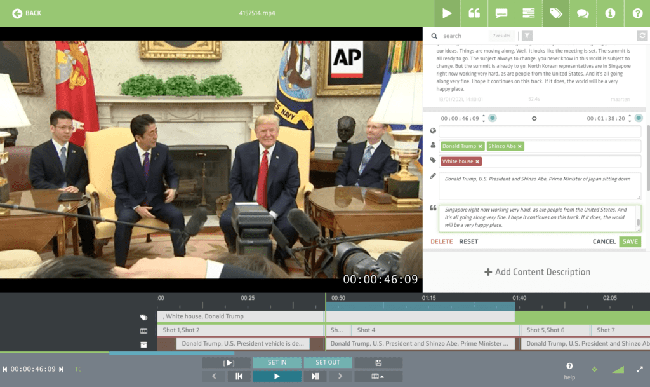 Capitalising on the results of the MeMAD project, Limecraft now delivers a complete shot list, including persons, scene description and soundbytes along with the rhythm of the edit. The result is presented in a user interface designed for proofreading and quality assurance, allowing you to add a human touch and achieve maximum accuracy.
This new approach of indexing video potentially saves massive amounts of manual work, while delivering a more complete and accurate result than produced by any alternative. Moreover, it cuts the turn around cycle of incoming newsfeeds to a minimum.
Improved export to Edit
Limecraft makes it easy to export shot lists ,or sync pulls to the edit suite. However, to make sure the content description, whether produced automatically, manually or anything in between, are useful to the editor, we had to improve the export to edit.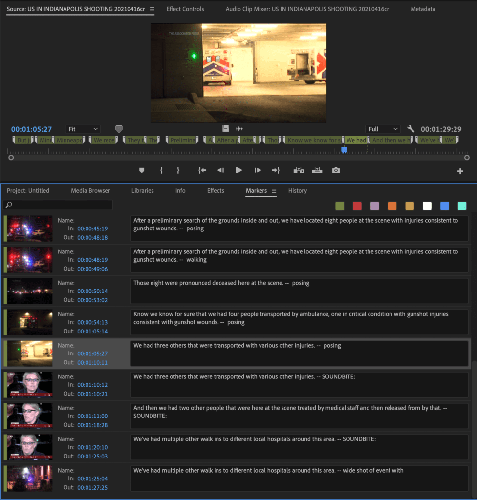 When you want to make available AI-generated metadata in the edit suite, one of the challenges is the synchronisation of the different timelines. For example, if the video consists of several shots, but you only have one large transcript, it doesn't make sense to import the transcript.
In order to make the transcript and shot descriptions usable for the editor, we cut and synchronise them along with the edit decisions. As a spill-over, you'll end up with a detailed table of content of what's in the edit without any manual tagging or post-editing.
AI-generated shot lists, and the export to edit are currently available in private beta. If you are interested in a demo or in case you would like more information, feel free to get in touch.
Search For More Content