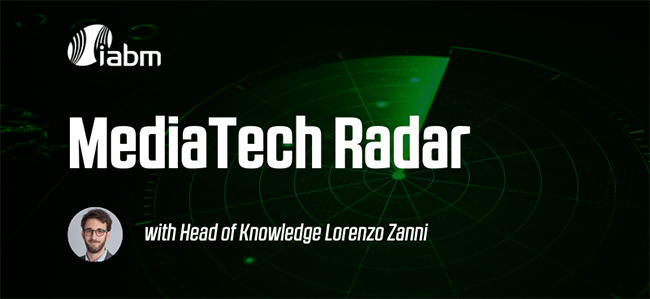 MediaTech Radar is a bi-weekly newsletter put together by IABM's Head of Knowledge Lorenzo Zanni. It focuses on a spotlight topic in MediaTech and reflects on a series of past, present, and future business developments in the industry. In this edition, our spotlight topic is the Creator Economy.
MediaTech Spotlight: The Creator Economy
A spotlight topic in MediaTech…
We recently published a briefing delving into the forces shaping the growth of the Creator Economy and its implications for media and technology.
In the briefing, we identified the following market forces as the major drivers behind the growth of the Creator Economy:
The emergence of new platforms, technologies and business models powering the Creator Economy is perhaps the most important driver fueling its growth. A thorough analysis by Doug Shapiro from August 2020 shows that while the Creator Economy remains largely unmonetized, distribution platforms are increasingly competing for talent through monetization tools aimed at better rewarding creators.
From a media business perspective, the Creator Economy can be seen both as a competitive threat and as a collaborative opportunity. While it is driving audiences towards competitive platforms, media companies have also recruited independent creators to attract younger demographics. There's been less activity when it comes to monetization aside from Fox's launch of its Blockchain Creative Labs.
From a media technology perspective, the Creator Economy represents a growth opportunity and may sanction a gradual move of business models towards more numerous and smaller monetary inflows. Stephen Bird, Vitec CEO, identified it as one of the most important drivers for the business at the company's H1 2021 earnings call:  "Vlogging and sharing content on social media has increased significantly. This means that more people are using our JOBY products to create and share content on their phones and cameras."
IABM research on content creation and production reported in 2021 that products in this part of the content supply chain were becoming more versatile to suit the home studio as well as non-technical users. This tendency may be further accelerated by the growth of the Creator Economy.
The growth of the Creator Economy is also set to drive an expansion of e-commerce sales, particularly for professional content creation equipment. More generally, it is set to drive a business shift towards direct-to-consumer akin to what we have seen in the broadcast and media sector.
MediaTech Watchlist: DAZN, Harmonic, Brightcove and more…
A watchlist of selected past, present and future business developments in MediaTech…
DAZN launched its original content arm DAZN Studios at the end of January 2022. The initiative aims to broaden the company's slate of programming beyond live sports. It may be a move to attract younger generations who watch less live sports and more non-live content. It may also aim to boost customer engagement with the platform beyond sporadic live events (hence reducing churn). Grant Best, DAZN's EVP Global Commissioning & Original Content, also said: "We are incredibly excited to be working with the next generation of creators and giving them an environment to do what they do best; create engaging and innovative productions." Will they be also going after independent content creators?
Harmonic posted its Q4 2021 results on 31 January 2022. Revenues in video segment were flat year-on-year though streaming-related revenues grew by 56.5% (streaming revenues account for about 17% of the overall video segment). Harmonic CFO Sanjay Kalra said that: "Extraordinary supply chain costs related to the pandemic continued to depress margins in 2021 relative to prior year, with a sequential decline primarily reflecting high supply chain costs in Q4." Gross margin in the video segment was down by 3.1% to 58.8%. He also said: "Where possible, we continue to stock up on the inventory at higher-than-normal levels in anticipation of continuing supply chain challenges." Inventory grew to $71.2m, up by 37% from Q3 2021 – the last time the value of inventory was so high it was in 2011, and technology supplies had been hit by a tsunami in Japan.
Grupo Televisa and Univision closed their $4.8bn merger at the start of February in yet another sign of consolidation in the media industry. The new company will be named TelevisaUnivision and will focus on building a Spanish-language streaming service in the US and Latin America. This move echoes the motives behind the partnerships focused on local programming we have seen in Europe to combat competitive pressure from global streaming platforms (Joyn and SALTO are two examples of this).
Brightcove and Kaltura will announce their FY 2021 results on 16 and 23 February respectively – two key dates for tracking the development of the streaming technology market. Brightcove announced its acquisition of Wicket Labs, an audience insights company that gives users visibility into content and subscriber analytics, in February 2022. Brightcove had also acquired HapYak, an interactive technology previously owned by Newsela, in October 2021. As we argued in a recent briefing, data and interactivity are key business drivers in the streaming market.
Discovery will announce its FY 2021 results on 24 February. The company is reportedly in talks with BT to form a sports joint venture in the UK and Ireland after the negotiations to sell BT Sports to DAZN broke down. This is yet another telco exiting the broadcast and media business after AT&T's spinoff of WarnerMedia and the consequent merger of the media business with Discovery. Several analysts commented that BT intends to make an exit due to the unpredictability of sports rights. Making a parallel with media technology, this has reminded us of Belden imputing the divesture of Grass Valley in 2019 to the unpredictability of the broadcasting market.
Survey alert: we have a poll on supply chain disruption open. In this poll, we aim to rapidly reassess the impact of supply chain issues on the media tech industry. The poll should take at most 3 minutes to complete and is anonymous. I'll make sure I cover the results of this poll in future newsletters. You can access it here. Many thanks to everyone who completes the poll, data is a key enabler to our research.
Thank you for reading this newsletter. If there are topics you would like me to cover, or have information/ideas you'd like to share, please get in touch with me.
Lorenzo Zanni
Head of Knowledge
IABM
Search For More Content