Traditionally, TV stations and networks have used standard aircheck recorders and compliance logging solutions to comply with federal regulations, such as proof of airing closed captions/subtitles, non-violation of Loudness laws (such as the FCC's CALM Act), and more.
These compliance solutions have evolved as new regulatory requirements were passed and technology standards evolved, such as SD to HD, ATSC-1.0 to ATSC-3.0, and other video protocols that have emerged as standards, like SMPTE ST 2110, and ABR (Adaptive Bit Rate) OTT streams.
The best solutions in the monitoring and logging space not only keep up with standards, but also innovate with features that add value, such as alerts on audio and video issues, airing color-bars, missing metadata, Transport Stream analysis, and more.
For networks with many distribution points… and for stations with primary and digital sub-channels, some of these solutions evolved to integrate multiviewers to monitor many channels at once, and add tools such as alert notifications, multiple language audio bars, display closed captions, Penalty Boxes showing channels in fault, and widgets to add items like time-zone clocks, metadata such as SCTE messages, TS data, and more.
The latest technology allows customization of multiviewer views that synchronize multiple probe-points for the same channel, enabling a user to see the audio, video, and metadata as they received it via IP, as it traveled via SDI through their facility, after they modified and MUXed it, as it traveled via ASI to their transmitter, and as return feeds are captured from Over-the-Air ATSC via antenna, Cable/Satellite return feeds via HDMI, and ABR OTT as it streams simulcast onto their website and/or digital distribution partners.
With Actus Synchro, once a channel is detected to be in fault, Synchro will show that channel at every probe point, identifying precisely where the problem was introduced, allowing Engineers to quickly remedy it. Similarly, when monitoring a single OTT rendition experiencing a fault, users can see every rendition of the ABR stream and pinpoint which renditions are in fault.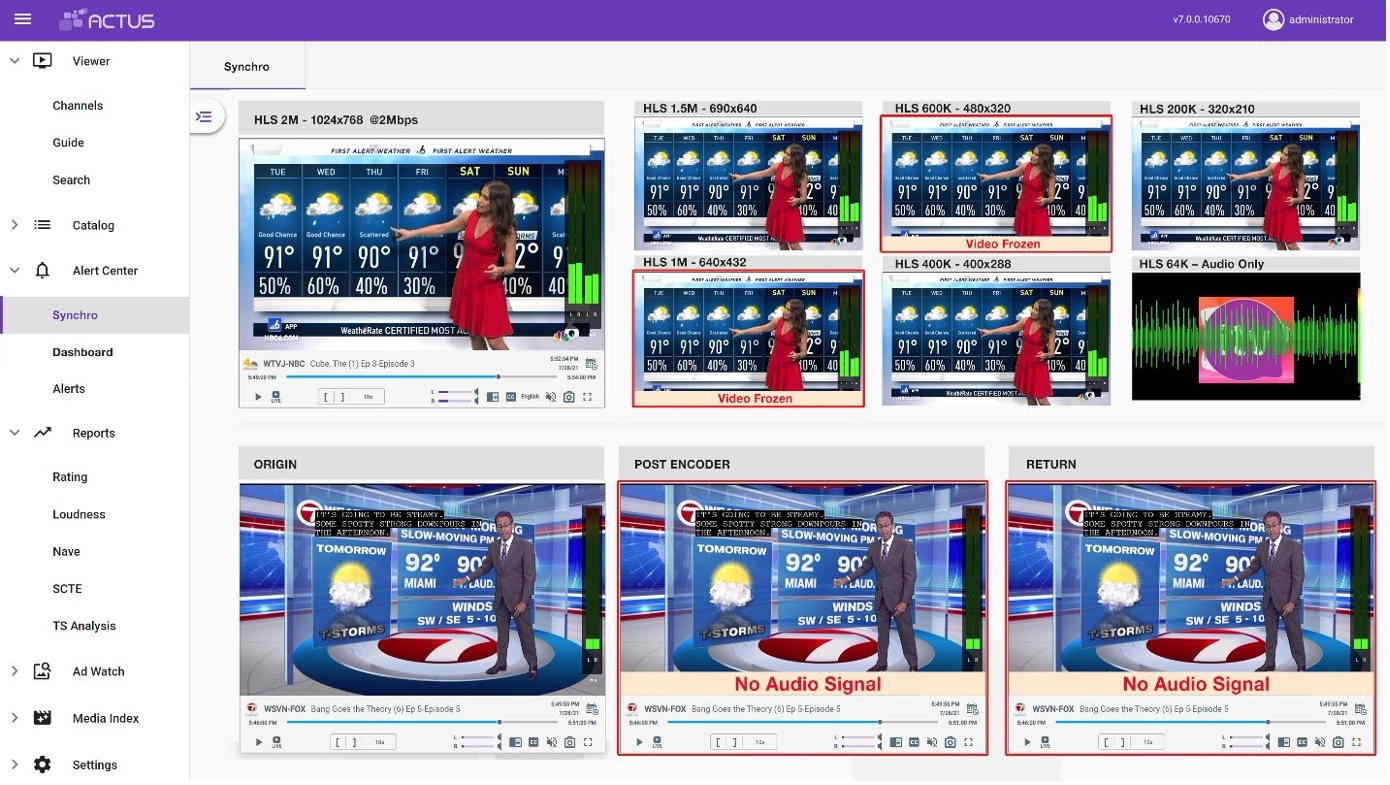 Image: Actus Synchro  pinpoints where errors are entering their video distribution chain and identify which renditions in an OTT ABR set are problematic.
When integrated with a Traffic system, discrepancies such as the variance between what was programmed in the Play List to air, and what it shows in the As-Run Log that actually aired, can be automatically evaluated with reports highlighting the differences.
Extending access to the compliance and monitoring platform to other departments delivers additional value, and a Return on Investment. Here are a few examples…
Compliance solutions have never been in a post-production workflow… until now.
Repurposing Content – Saving original resolution high-quality video on this platform formerly just used by Engineering opens up many other workflows and use cases, including post-production and content repurposing.
Adding Actus Digital's Clip Factory Pro onto the same platform allows users to clip and concatenate content, add effects such as graphic/animated overlays, pre-roll/post-roll, cropping, blurring, and more…  which can all be performed without going to an edit bay or even leaving the 'QA/Compliance Platform'.

Image – A complete content re-purposing workflow 
Driving even greater productivity, the entire workflow can be saved into profiles so that users can select clips, select a profile, and let the system produce high-quality, well-produced content… every time… lightning fast.
Faster still, automation can be set up so that these profiles run on their own based on rules pertaining to a schedule of certain times on certain days or As-Run Log, EPG, or any other metadata. The system is intelligent enough to automatically remove all commercials and utilize all of the settings from a saved profile.
Clip Factory Pro users beat their competition to digital rebroadcasting on Social Media platforms (Facebook, Twitter, Instagram, YouTube, etc.), which builds viewer loyalty and draws them back to their primary over-the-air linear broadcast.
These same systems are being used in high-quality, prime-time workflows, where content is captured and pre-selected from networks where short clips can be taken from and integrated into news programs, abiding by all rights guidelines.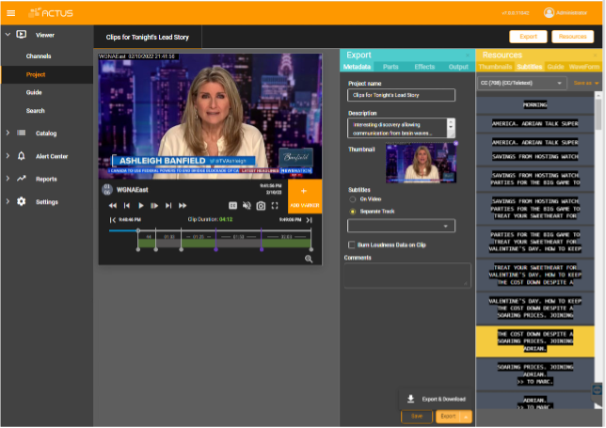 Image: Actus Clip Factory Pro is being used by Nexstar's NewsNation production teams in Chicago and New York to preview content and select original quality clips that air on the national news and entertainment cable network reaching 75-million television households across the United States.
"All I Want is an Unfair Advantage" – Unknown News Director
News is a competitive environment where any technique that can drive ratings up result in higher Ad-Revenue and increased profit. So when the Intelligent Monitoring Platform evolved to assist with ratings improvement, News Directors took notice.
Some of the tools that help News Teams to improve ratings include keyword alerts when competitors air "breaking news", collaboration tools that allow stories to be bookmarked and categorized and viewing ratings-graphs displayed right next to the content that aired on each channel to illustrate what is working… and what isn't.
Increase PPM, Revenue, and Bottomline Profit
One workflow that directly produces an ROI is AdWatch, which can identify new Ads in a market and report on the number of times each ad runs on each station in the market. This helps Ad-Sales teams to maximize PPM and revenue by presenting them with lead lists of advertisers spending more on competitive channels and also by helping them improve their sales pitches to prospective advertisers by referencing the station's rating performance to the specific demographics that appeal to that advertiser.
Live Programming is Your Greatest Asset
The future of linear television is uncertain amidst the popularity of VoD and OTT sources, however live news and sports are the lifeblood of linear programming. Why let all the effort that goes into producing top quality content produce only a single payday and expire the moment it airs?
The best Intelligent Monitoring Systems like Actus Digital, have Asset Management built into the same platform. Actus Light-MAM increases the value of media archives, allowing users to create a rich metadata asset library from scratch or integrate with existing MAM systems so their high-quality content can be easily searched and become a part of a VoD library or integrated into future programming.
Metadata is key to turning your media into an asset. Metadata generation can come from multiple sources, such as extraction by a compliance system (like original air-time, channel source, closed captions/subtitles, SCTE information, etc.). Additional metadata can be imported from third party systems like Traffic and Playout, as well as advanced AI engines for things like speech-to-text, language translations, and facial recognition.
One Platform… Many Beneficiaries
A compliance logger doesn't have to be an expense burdened by only the engineering team. If an intelligent monitoring platform like Actus is chosen at about the same price, that investment can serve the entire station, pay for itself, and produce an ROI when used by Digital, News, and Sales Teams.
After receiving feature requests from many of the over 600 Actus customers, across the last 17 years, the Actus Intelligent Monitoring Platform has evolved to not only offer the industry's most affordable and comprehensive tool for engineering… but a facility-shared resource that makes it one of the most intelligent investments a broadcaster can make.
Search For More Content