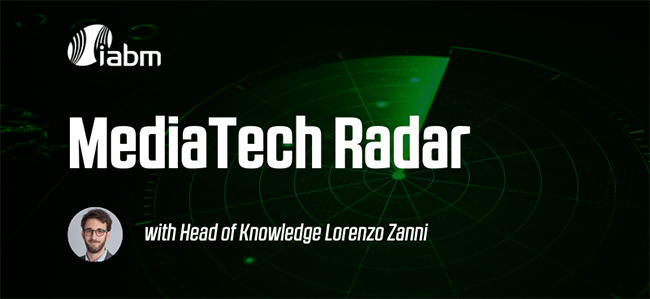 MediaTech Radar is a bi-weekly newsletter put together by IABM's Head of Knowledge Lorenzo Zanni. It focuses on a spotlight topic in MediaTech and reflects on a series of past, present, and future business developments in the industry. In this edition, our spotlight topic is Backlight's launch and investment in MediaTech.
MediaTech Spotlight: Analysis of Backlight's launch and investment in MediaTech
A spotlight topic in MediaTech.
On 12 April 2022, Backlight, a newly formed media technology company, announced a strategic $200m+ investment backed by growth equity firm PSG in five SaaS media tech businesses: ftrack, iconik, Celtx, Wildmoka and Zype. I had the pleasure of interviewing Backlight and Wildmoka before NAB Show. As I mentioned in the previous newsletter, I wanted to share my reflections on the significance of this investment and the trends it reflects. These reflections were turned into the questions I asked both Backlight and Wildmoka's executives in the interview – do watch the interview if you want to have a full picture of how they answered. However, if you want to read some thoughts about it first, here's some bullet points:
This is a significant investment uniting a set of specific technology tools from content creation to distribution under one common umbrella, as well illustrated by ftrack's graphics accompanying its announcement of the acquisition, which I have shared below:

Source: ftrack

The obvious driver behind this investment is the accelerated demand for cloud-based and SaaS technology in media because of pandemic-induced restrictions between 2020 and 2021. This has been well documented by IABM research, which has, though, also highlighted how trends such as cloud adoption and the move to remote production models have created additional complexities and dilemmas for media businesses intending to move their workflows to the cloud.
In December 2021, I interviewed ZDF's Robert Amlung about some of the economic and operational challenges posed by cloud. During the interview, he mentioned that his business didn't want to become dependent on one cloud provider though required integration between the services it used – he suggested that increasing standardization in cloud could be a way to address this. In the Media Factory Economics report published in partnership with Dell last year, we selected some of the unresolved dilemmas regarding the deployment of cloud operating models in media, one of which was trading off between lock-in and complexity: "Some media companies are still pondering about best-of-breed vs end-to-end in the cloud. While most prefer complexity over lock-in, they are still working on minimizing this complexity to make a solid business case for the cloud. As evidenced earlier, this is a major area of focus for media companies going forward, which will likely attract investment." The disconnect between demand and supply in this area remains arguably unresolved.
Some of the dilemmas reported above echoed in the press release announcing the acquisitions. Ben Kaplan, President and CEO of Backlight, said of the investment: "I believe the explosion and democratization of content creation, combined with the incredible growth and fragmentation of consumption, have created massive complexity and new opportunities for creatives and content owners. The market is demanding innovative, flexible, cloud-based solutions to modernize media workflows. With five incredible business units, each led by visionary CEOs delivering compelling, differentiated solutions, Backlight is well positioned to be a trusted partner for customers with mission-critical creative processes and video pipelines." Note the focus on complexity, flexibility, and differentiation. I was keen to see how these technology tools were going to be organized under the same holding company which is why I asked Ben about it. He said that individual businesses will preserve independence (consistent with the use of the expression "business units") to maintain their best-of-breed focuses, while delegating support functions such as human resource management to Backlight. It will be interesting to see how this umbrella organization will develop in the future and whether there'll be any integration at the technology level.
Another obvious driver is represented by the fragmentation of the media technology solutions market vis-à-vis the financial scale required by SaaS models. This investment includes talent, which has become scarce as of late, as well as continued technology development to meet users' changing needs. With this investment by Backlight, the acquired companies will be able to maintain their specificities while being able to grow their offerings at scale, consistent with the point made above as well.
I forgot to mention the content boom, which is ultimately the origin of the cause-effect logic exposed in the quote above ("the explosion and democratization of content creation"). IABM research has well documented this. Moreover, we published a Briefing on the potential opportunity provided by the growth of the creator economy. This is a trend potentially broadening the market for cloud-based content creation.
The creator economy leads me to yet another potential driver behind these acquisitions, which is again provided by words included at the end of the press release announcing the deal. "There is a large market opportunity to improve the way content producers, owners and distributors create value, starting with the media and entertainment industry but extending to any enterprise investing in rich media and video," said Matt Stone, managing director at PSG. Note that they envisage the start of their growth curve to be media, but the extension to be enterprise. As we wrote in the MediaTech Spotlight on MediaTech Convergence in a past newsletter, this is becoming a principal target for many media tech suppliers. There's a catch here though. As we reported, many media tech suppliers are going after the enterprise market with an end-to-end strategy, while this deal highlights a more nuanced approach to do so. This topic was covered at the end of the interview.
MediaTech Watchlist: Avid, PSBs, Discovery and more…
A watchlist of selected past, present and future business developments in MediaTech.
Thank you for reading this newsletter. If there are topics you would like me to cover, or have information/ideas you'd like to share, please get in touch with me.
Lorenzo Zanni
Head of Knowledge
IABM
Search For More Content