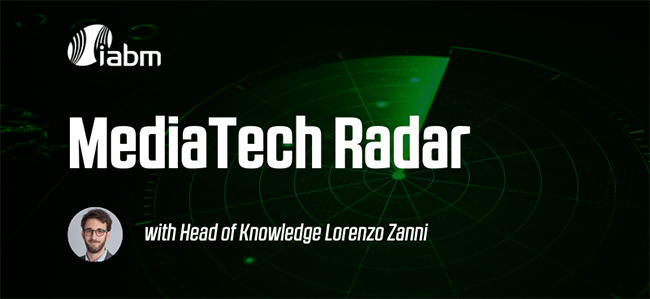 MediaTech Radar is a bi-weekly newsletter put together by IABM's Head of Knowledge Lorenzo Zanni. It focuses on a spotlight topic in MediaTech and reflects on a series of past, present, and future business developments in the industry. In this edition, our spotlight topic is MediaTech Convergence.  
MediaTech Spotlight: MediaTech Convergence 
A spotlight topic in MediaTech. 
In the last newsletter, I selected my top 3 trends to watch at NAB Show 2022. One of this is the convergence I am seeing in the media and entertainment industry. In this newsletter, I wanted to dig deeper into the effects that this convergence is having on media tech.
Generally, convergence is operating in both directions. While general-purpose tools are increasingly being used by media businesses, media technology is increasingly being used by non-media organizations.

Think about sectors such as education and corporate working with some media technology tools for student or employee engagement because of the pandemic. At its Investor Day in March 2021, Brightcove highlighted the significant rise in the use of corporate communications as one of its most promising growth opportunities, with CMO Jennifer Smith saying: "When the pandemic first hit, it was a reaction that was an urgent request for a tactic to have something that could communicate widely to employees. And I think now what customers are seeing is that they can reach a much broader scale… They are now making this part of their strategy as opposed to something they just have to do in the pandemic. The same goes for sales and marketing, where previously, video was a nice to have. Now organizations are looking for a full video content management platform because they know they are going to have to create more, because that is a way that can reach more people on a greater scale and actually connect with them greater, and it's becoming a core part of marketing strategy."
Brightcove announced its acquisition of HapYak, an interactive technology, in October 2021

. The company acquired the technology from Newsela, an instructional content platform. In the press release, the company said: "With the integration of the HapYak technology, Brightcove users can quickly and easily incorporate interactivity into virtually any video, including clickable hotspots, quizzes, shopping cart purchases, personalization, choose-your-own-adventure paths, and a variety of calls to action (e.g., buy now, subscribe, download). The technology will also enable marketers, HR, corporate training departments, and sales teams to track viewer actions and sentiment and to personalize customer journeys in entirely new ways." Brightcove bought this technology from a player operating in the education sector – this really speaks loudly about convergence – to boost its interactive solutions and target adjacent markets. 
At the end of 2021, Vimeo acquired two technology businesses, WIREWAX and Wibbitz

, in a move echoing the investments made by Brightcove. "Vimeo now serves over six thousand enterprises with our video software, and we've only just begun to unlock the myriad ways video can be used at work to communicate, collaborate and connect better," said Anjali Sud, CEO, Vimeo, about these acquisitions. This piece by Tech Crunch explains that the main motive behind these acquisitions is the growing enterprise market for video

. Sud has said that: "companies are going from reactive to proactive, and employees are demanding it," which is very similar to the initial quote by Brightcove reported above.

 
The linked article continues

: "Sud said of the video push and how its customers are looking for more functionality in their video software. The knock-on effect for Vimeo, she added, has been to become a consolidator of many of the smaller video companies that have emerged over the years to address different aspects of the creation process." This is to, in the words of Sud: "get every company using video every day, to get 1 billion knowledge workers using video." This highlights two points. The enterprise market for video is potentially huge, at least according to Vimeo, and its customer base prefers end-to-end solutions. The latter (and arguably the former as well) is something that media tech suppliers such as

Grass Valley

and

Vizrt

have noticed Consistent with its strategic pivot, Vimeo hiked prices in March 2022

. The linked article says: "Originally launched as an "indie" creator platform that billed itself as a YouTube alternative, Vimeo is working to redefine itself as a B2B software company that focuses on offering tools for live events, webinars, training, corporate town halls and content monetization."
Kaltura posted its Q4 2021 results on 23 February 2022

. While revenues were up, growth decelerated in 2021 with CEO Ron Yekutiel saying that one of the reasons behind this was: "organizations shifting from rapidly purchasing a virtual events product along with many professional services to conduct their few flagship events remotely during COVID, to more slowly and diligently purchasing a low touch enterprise-wide platform that would cater to all of their future event, large and small, both virtual and hybrid." He also added that sales cycles had become longer because of this trend. This is consistent with corporate customers preferring end-to-end solutions for their video workflows, though it also highlights their step change in purchasing behavior in a post-pandemic world.
How have these trends influenced media technology? Technology convergence is translating into the content journey across the supply chain shortening and becoming more interconnected. Camera suppliers have been working on functionalities such as live streaming or direct internet connection to shorten the content journey. End-to-end solutions targeting adjacent verticals may build on this to cater to corporate workflows – indeed some camera suppliers have been working on end-to-end media offerings. The result may be an interconnected ecosystem that enables non-media technology users to capture, manage, and distribute media seamlessly.
In content creation and production, technology is becoming more versatile. This applies to both hardware and software. Versatile means small and adaptable to different use cases (e.g., home studio) in the case of content creation hardware. It also means easy to use and accessible to non-technical operators, in the case of audio technology (i.e., hardware and software) and in the case of software-based production solutions. Some suppliers have increasingly focused on designing slick interfaces to make their products accessible to new users and markets.

 
Content management is moving beyond the traditional concept of the media asset management (MAM) system, with clearly defined, media-specific use cases, even borrowing ideas from the digital asset management (DAM) market. For example, content management systems are increasingly focused on enabling seamless content sharing. Also, analytical tools are becoming integral parts of these systems.
When looking at the end of the content supply chain, technology convergence may translate into a further commoditization of distribution channels and a general prioritization of internet delivery as well as a movement of resources towards the edge of networks.
MediaTech Watchlist: NFTs, BBC, Discovery-WarnerMedia and more… 
A watchlist of selected past, present and future business developments in MediaTech. 
The conflict between Russia and Ukraine brought us back to earth, sending the value of virtual assets such as non-fungible tokens (NFTs) down.

According to this Fortune article 

published

at the start of March: "

The average sale price of an NFT is now below $2,000, according to market tracker NonFungible. That's down from over $6,800 in January. Cumulative daily sales have dropped from $160 million in January to $26 million on Thursday.

" You can check out the NonFungible market tracker

here

.

On the slide below, I have charted the worldwide searches for the word "NFT" from July 2021 to March 2022. These grew significantly after Facebook rebranded to Meta in October 2021 – by the way, using this time span as reference, there is a 79% correlation between "NFT" and "Metaverse" searches, highlighting the deep connection between the two.

The lifting of pandemic-related restrictions

and the start of conflict in Ukraine contributed to reducing interest in virtual technologies such as NFTs (and the Metaverse). This is not preventing digital platforms from investing in NFTs as,

according to this Financial Times article published on 17 March (requires subscription)

, Spotify

was "

drawing up plans to add blockchain technology and non-fungible tokens to its streaming service

." Spotify follows social media companies such as Instagram, Twitter, and Reddit, who are also planning NFT-related features on their platforms. Although NFT trading has been driven by speculative motives, is the bubble that we may see bursting a productive one?

Productive bubbles are defined in this OECD resource

as: "

[bubbles that] have mobilized capital to deploy transformational technologies and to explore the new economic space.

"

This Medium blog post by Doug Shapiro

well

argues why Web3 technologies such as NFTs are not just buzz and could be transformational.

A more recent article on TVBEurope

focuses on why NFTs could be disruptive to the broadcast industry as well.

Are we back to earth or is this just a stumble block in the process of a gradual transformation?
In broadcasting, the revival of physical vis-à-vis digital was epitomized in March by the

BBC's decision to resurrect shortwave radio

to

contrast Russia's attacks on Ukraine's communications networks. According to the linked article from the New York Times: "

The BBC said that it would use radio frequencies that can travel for long distances and be accessible on portable radios to broadcast its World Service news in English for four hours a day in Kyiv, the Ukrainian capital, and in parts of Russia

." The BBC had retired the historical service in 2008 after the growth of internet services had made it obsolete.

 
Discovery and WarnerMedia will merge their flagship services Discovery+ and HBO Max into one single product

.

Gunnar Wiedenfels, the current CFO of Discovery, and the future CFO of the combined company, said at the Deutsche Bank Media, Internet & Telecom Conference in March 2022: "

The main thrust is going to be harmonising the technology platforms, building one very strong, combined, direct-to-consumer product and platform, and that's going to take a while

," hinting at a consolidation of streaming technology spending because of the merger. That consolidation is likely to be a sizable one as he added: "

A lot of the $3 billion synergy target is really coming from efficiency against that D2C technology and marketing spend

."
Netflix is working on addressing password-sharing, a secular trend restricting its growth potential.

According to this Variety article published in March 2022

, Netflix

: "

will soon launch a test letting primary account holders pay an additional fee for users outside their households — a new attempt by the company to address illicit password-sharing

."

 
Apple TV+ has bought its first set of sports TV rights

:

"

a package of Major League Baseball (MLB) rights in nine territories including the US, UK, and Japan.

" Again, this is the continuation of a trend seeing big technology giants snapping up more sports packages. Last year, we wrote

in our sports report

: "

Before the pandemic, technology giants such as Facebook, Google, and particularly Amazon had already shown interest in sports rights. This led to a slight fragmentation of sports rights packages in some leagues such as the EPL. However, Pay-TV operators held most of the sports rights pie. After the pandemic ends, factors such as the financial pressure on sports business models, deteriorating household incomes, and big tech resilience in the COVID-19 crisis may produce a further fragmentation of sports rights packages

." This fragmentation is relevant to media tech as it should produce a fragmentation of sports technology spending.
Sports, however, is still a big spending driver for the broadcast and media

Data from the Standard Media Index reported by Broadcasting & Cable in this article

shows that

the Super Bowl drove revenues at NBCU, who held the rights this year and experienced a 139% increase in advertising dollars. Conversely, advertising revenues at ViacomCBS (now Paramount), who held the rights in 2021, declined by 55%. Moreover, digital advertising continues to be up and now accounts for 51% of advertising dollars.
Thank you for reading this newsletter. If there are topics you would like me to cover, or have information/ideas you'd like to share, please get in touch with me.  
Lorenzo Zanni 
Head of Knowledge 
IABM 
Search For More Content