Discovery Sports' activity revolves around its live and on-demand coverage of major international sports events, including Eurosport's multi-platform coverage of the Olympic Games Tokyo 2020. In order to best deliver this highly qualitative content to its viewers and subscribers, Discovery wanted to build greater usability and flexibility through a significant upgrade and centralization of their technical infrastructure.
Along with Grass Valley, Woody partnered with Discovery Sports to support the transformation of its scaled and complex production and broadcast infrastructure across Europe. A major tech transition for Discovery's sports programming and content, including streaming and Eurosport channels.
Vendor's assignment was to provide all systems required for production – including media management, post-production and playout – and to make cloud deployment a priority.

The transition entailed a number of challenges
Every Discovery and Eurosport journalist had to be given access from anywhere in the world using Single Sign-On (SSO).
Specific cloud safety norms had to be applied.
The infrastructure had to be fully compatible with PC, Mac, Android and iOS clients.
The Signiant solution had to be the File Transfer Acceleration technology.
Hard deadlines had to be fully prepared ahead of the Olympic Games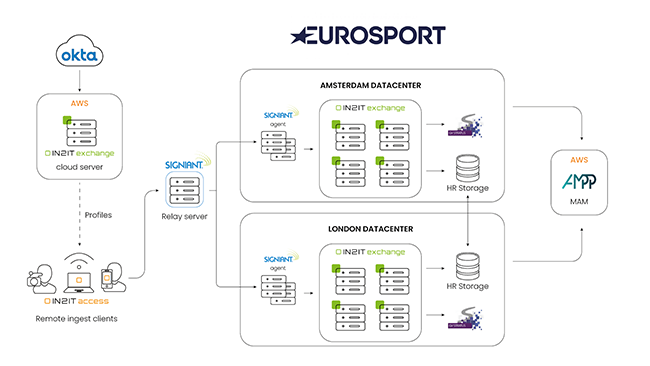 Implemented solution
In order to meet Discovery's unique requirements, we set up one 4-node IN2IT exchange farm in London and a similar one in Amsterdam to transcode files ingested from any location: media are redundantly ingested to both platforms and accessible via the new Grass Valley AMPP Asset Management (AMPP AM) deployed in AWS.
Another IN2IT exchange cluster allows access to all IN2IT ingest profiles from every client station, regardless of their operating system, and from everywhere in the world. Profiles are filtered for each user according to the rights granted by Discovery and Eurosport administrators. Discovery hosted the server with its partner AWS.
Every time Discovery sets up a new profile, IN2IT access clients are automatically updated.
The platform includes Single Sign-On: user authentication works via Okta integration, a provider that enables users to utilize their corporate credentials in Woody applications.

Various client interfaces to meet remote user needs
Regarding IN2IT access, Discovery opted for floating licenses.
More than 100 Discovery and Eurosport production staff and journalists across the world used the internet and local networks to connect during the Olympic Games. The solution demonstrated strength and reliability. Thanks to this success, Woody system has been fully used for a second Olympic Games, during the Beijing 2022.
Woody also developed a light IN2IT exchange interface designed to enable fast and easy upload via a web browser.
This cloud-based UI makes it possible to browse files locally, and to then upload and send them according to IN2IT profile workflow rules.
System administrators can deploy this agent on journalists' computers, in a single click and in compliance with Discovery workflows. Users can additionally benefit from a dynamic integration with AMPP to populate metadata fields.
The UI gives journalists great flexibility and responsiveness to meet tight deadlines, especially when covering major sports events such as the Olympic Games.
And in order to make IN2IT exchange fully compatible with all operating systems, we made a macOS version of the new upload agent.

Smooth collaboration with Discovery and partners
Ahead of schedule, and to prepare Woody's intervention, Discovery acquired a staging platform and tested it at Tour de France and Wimbledon events.
To meet Discovery's needs, we integrated the Signiant solution and developed a load balancing system on Signiant, so Discovery could easily scale up the number of Signiant agents. AWS S3 integration in IN2IT exchange was also widely used in Discovery workflows.
Close collaboration with Discovery's project team in Paris allowed for seamless and timely adaptation to project changes.
Search For More Content